Race 20 of 33: Zippo 200 at Watkins Glen International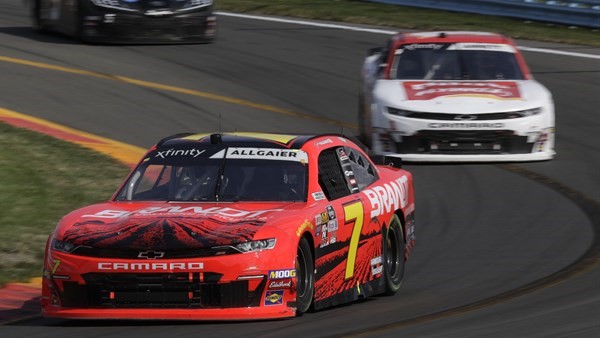 Track Specs: 2.45-mile road course / 82 laps

Weather: Partly Cloudy; 84 degrees
Race Winner: Austin Cindric
Allgaier's Finish: 3rd
Annett's Finish: 8th
Gragson's Finish: 9th
Preece's Finish: 10th
Justin Allgaier overcame damage from an early spin to lead 13 laps on his way to a third-place finish in Saturday's Zippo 200 at Watkins Glen International. The finish was the ninth top-five effort of the season for the No. 7 BRANDT Professional Agriculture team. Allgaier remains fourth in the NASCAR Xfinity Series point standings.
Rolling off the grid ninth for the 82-lap race, Allgaier was racing inside the top 10 when the first caution of the day came out on lap 11. Under the yellow, he reported to his team that the BRANDT Chevy was lacking rear-lateral grip through the corners. Crew chief Jason Burdett called Allgaier in for four tires, fuel and adjustments. Restarting 22nd on lap 13, the JR Motorsports driver was working to advance his position when contact from the No. 4 sent him spinning, bringing out the caution. With damage to the right-side of his No. 7 Camaro, Allgaier was forced to come back to pit road for repairs.
After the restart, Allgaier was working his way through the field when an incident involving the No. 4 brought out the caution once again on lap 19. Allgaier was scored 16th at the time of caution, which also served as the conclusion of Stage One. The team opted to stay out under the yellow, lining up 10th for the start of Stage Two on lap 23. When the caution came out again on lap 34, the team took the opportunity to pit for four tires, fuel and an adjustment, and Allgaier restarted in 15th on lap 37. With just a few laps remaining in the stage, Allgaier powered his way to eighth before the green-and-white checkered flag wave to end Stage Two on lap 40.
The No. 7 team stayed out under the stage-ending caution while other teams came to pit road, allowing Allgaier to start the final stage from the fourth position on lap 44. He maneuvered his way to third, and with the two cars ahead of him pitting under green due to varying strategies, Allgaier took over the lead on lap 51. The Illinois native paced the field for 13 laps before making a scheduled green-flag pit stop for four tires and fuel. He got back out on the track in the fourth position and was in that same spot when a caution came out on lap 69.
Back under green, a multicar incident quickly brought out the yellow flag once again. The last restart of the day proved to be a chaotic one, but Allgaier continued to race inside the top five, ending the day with a third-place finish.
Austin Cindric won the race and was followed by Christopher Bell and Allgaier, with Ryan Blaney and Tyler Reddick rounding out the top five.
Justin Allgaier, driver No. 7 BRANDT Professional Agriculture team
"Jason Burdett (crew chief) did a great job on pit strategy today. We got three-wide on that final restart and I got damage to the left-front tire, so I was really just hanging on at the end there. Our BRANDT Professional Agriculture team definitely had to battle some adversity, but we were able to overcome it and have a really solid day. Hopefully we can continue that positive momentum as we look ahead to Mid-Ohio next week."